M824 2V LL - 2 Speed - Leverless
M824 2V LL - 2 Speed - Leverless
Description
Super-automatic tyre changer for alloy rims from 10" to 24".
Outside locking up to 24".
Ideal for low profile, "UHP" and "Run Flat" tyres
Air locking of the fitting head.
"LEVER-LESS" technology (without tyre levers) incorporated in the fitting head.
Two speed motor with "IP" (Increased Power) System
ALLY 90 bead lifting / pressing device supplied as standard.
Air-operated tilting column.
Specification
Made In Italy
Rim Diameter : 10" – 24"
Bead Breaking Power ( Blade ) : 10 BAR / 15,500 Nm
Bead Breaking Blade Opening : 410 mm
Maximum Wheel Diameter: 1040 mm / 41"
Maximum Wheel Width: 14"
Motor: 2 Speed 230V / Single Phase / 50-60Hz
Working Pressure : 10 BAR
Noise Level : < 70 dB ( A )
Maximum Self Centering Torque : 1,200 NM
Weight: 288 Kg
Dimensions
Dimensions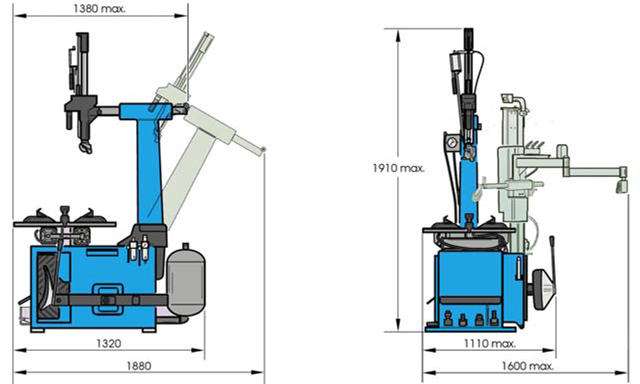 Accessories
Complete with standard accessories:
​Bead Clamp
Lubricating Brush
Plastic Tyre Changing Tool ( 2 )
Set of 4 Jaw Pads
Plastic Cover for Blade
Plastic Inserts for Fitting Head (5)
Rim Protectors (6)

Optional Extras
Wheel Lift Device
Set of Motorbike attachments