F240 A Truck Tyre Changer
F240 A Truck Tyre Changer
Description
All new from HPA , the 2021 version of the F240 A Universal semi-automatic tyre changer suitable for truck, bus & agricultural wheels.
Features:
Compact and user-friendly tyre changer.
The position of the tools speeds up work and makes the demounting and mounting operations easier.
Working capacity up to 26'' rim diameter or 1400 mm maximum wheel diameter.
The hydraulic controls, horizontal for tool use and vertical for wheel positioning, make the tyre changer extremely user-friendly.
New gear unit, suitable for intensive and heavy-duty use.

Top-of-the-range new rim clamping jaws.
Clamping from 14'' to 26''. Maximum performance thanks to the 7 different clamping methods available.
Minimum clamping diameter: 100 mm.
Supplied with plastic rim support plugs in different thicknesses for perfect rim clamping.
Thanks to the performance of the new gear unit we can offer an excellent wheel rotation speed of 9 rpm (+ 20% compared to the previous version).

New control console with separate housings for electrical cables and hydraulic pipes. You can easily place the different accessories on the control console, such as the protections for alloy rims.

The new control console also allows to choose whether to use the standard working height or to raise it, the raised position is 150 mm higher than the standard working height.
Specification
Maximum Wheel Width 695mm
Maximum Wheel Diameter: 1400mm
Hydraulic Power Unit Motor: 0.75 Kw (3ph)
Maximum Wheel Weight: 700 kg
Maximum Torque Delivery: 2200 Nm
Bead Breaker Force: 14000 Nm
Voltage 400V- 3 Phase - 50 Hz
Weight: 500kg
Dimensions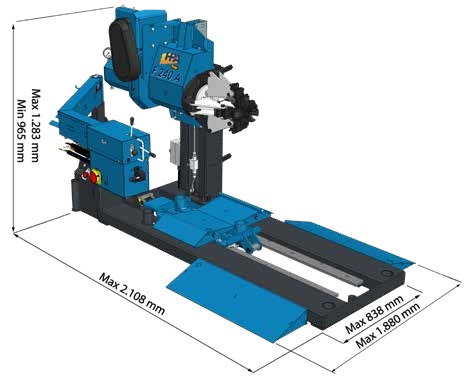 Accessories
Complete with Standard Accessories
2 x Rollers
1 x Bead Lever Tool
1 x Bead Lifting Lever
1 x Rim Clamp
Recommended Accessories
A - Alloy Wheel Clamp
B - Bead Breaker Disk
C - Alloy Wheel Plastic Jaw Protectors
D - Plastic clamp for Alloy Wheels

​