B 235 EVO
Description
Description:
Electronic wheel balancer for car, van and motorcycle wheels.
Luminous digital double display with user friendly built-in keyboard.
Spin & Measuring Unit : Designed to work with high offset wheels without the need for additional spacers.
Automatic brake at the end of the spin
Reduced cycle time and high performance
The "zero" maintenance motor and highly innovative design guarantee reliability, sturdiness and high work load.
TwinLight Technology : LED Spotlight to light up the work area and make it easier to clean the rim,check the wheel and apply weights.
The adhesive weights can be positioned extremely rapidly using the laser pointer at 6 o clock
RPA: Automatic wheel positioning and electrical positioning brake at the point where the balance weight must be applied
Autosel : Electronic input of wheel diameter and distance which automatically activates the balancing programme
Specification
Supply Voltage: 230V / 1 Phase / 50-60 Hz
Shaft Diameter: 40mm
Noise Level: <70 dB(A)
Spinning Speed: 90 to 130 r.p.m
Rim Diameter Setting Range: 1" – 35"
Rim Diameter Measurable: 11" – 28"
Rim Width Setting Range: 1.5" – 20"
Maximum Wheel Width with Guard: 600mm
Maximum Wheel Diameter with Guard: 1117mm
Maximum Wheel Weight: 75kg
Average Measuring Time 7 Seconds
Machine Weight : 193kg
Dimensions
Dimensions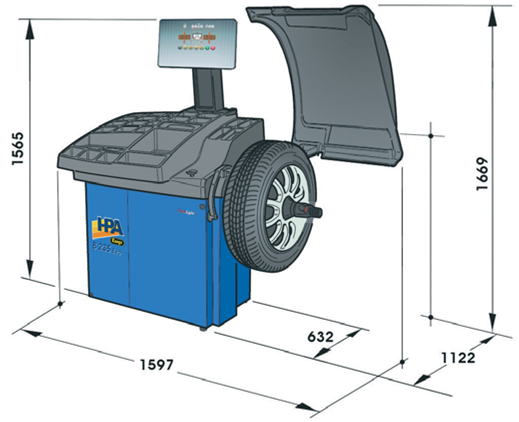 Accessories
Complete with standard accessories:
4 Centering cones
1 Ring Nut
1 Threaded hub and extractor
1 New cap
1 Caliper
1 Pliers for attaching balance weights
​1 Operator's manual