F560 / F560A Truck Tyre Changer
F560 / F560A Truck Tyre Changer
Description
New Product
Electro-Hydraulic Tyre Changer for Trucks, Tractors and Earthmoving vehicles.
For Rims 14" - 46" ( 56" with extensions)
Heavy Duty to cope with the most demanding operations.
New state of the art electrical and hydaraulic power units
Remote Controller to keep the operator safely away from the machine while using.
"A" version - once the tool arm has been moved to the "nonworking
position", its travel is automatic allowing it to be
shifted from one side of the wheel to the other at considerable
speed and complete safety.
Specification
Made In Italy
Maximum Wheel Width 1065mm
Maximum Wheel Diameter: 2300mm
Chuck Clamping: 14" - 46" ( 56" with extensions)
Wheel Centre Hole Minimum Diameter: 100mm
Hydraulic Power Unit Motor: 1.5 kW
2-Speed Gear Motor: 1.3 - 1.8 kW
Wheel Lifter Cylinder Capacity: 1600 kg
Maximum Wheel Weight: 1000 kg
Maximum Torque Delivery: 4000 Nm
Bead Breaker Force: 27000 Nm
Voltage 400V- 3 Phase - 50 Hz
Weight: 800kg
Dimensions
Dimensions
​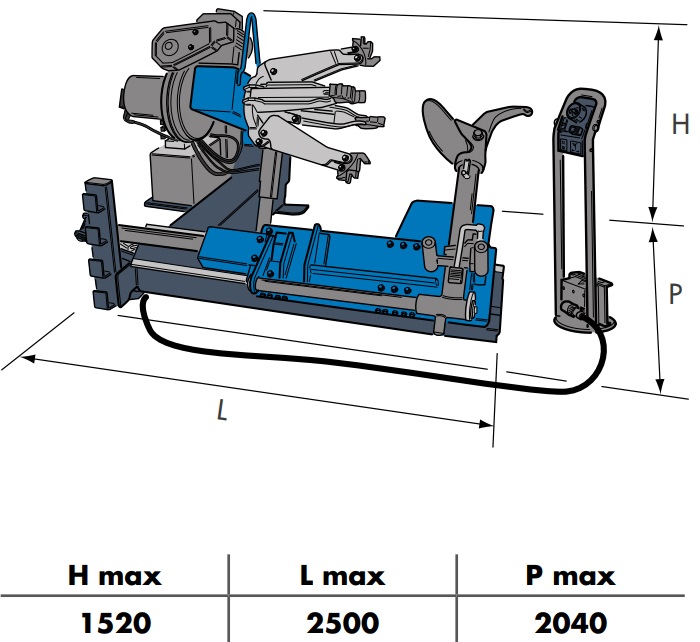 Accessories
Complete with standard accessories
Tyre Lever x 2
Wheel Clamp
Optional Accessories
Clamping Alloy Rim Adaptor
Alloy Rim Clamps Available in Sizes of
Diameter: 161mm, 164mm, 176mm, 202mm, 220mm, 221mm, 281mm
Pneumatic Bead Pressing Tool
Wireless Controller