M724S - 2 Speed - Space Saver - New Model
M724S - 2 Speed - Space Saver - New Model
Description
New from HPA
M724 S with innovotive side rotation back column, new bead breaker adjuster and newly designed fitting head.
This tyre changer reduces the operating area required and allows the tyre changer to be placed agaisnt a wall, saving almost 1m.
Ideal for tyre shops with a small amount of operating room.
Can be supplied with Ally 30 Help Arm.
Please check the videos below for a demonstration
Main Features
The operating rear column swinging to the left offers very reduced overall dimensions of the tyre changer.
The benefit of this solution is that the machine can be positioned against a wall, thus saving space in the work area and where the space is limited.
Its operation is quick and handy, thanks to pneumatic rotation and front positioning of the demounting/mounting tool.
Tool head
The demounting and mounting tool is a major innovation for this tyre changer.
The addition of the newly-designed read tab offers significant support during mounting and
facilitates tyre installation on the rim avoiding possible damage to the tyre.
Plastic protections are also present to avoid scratching the rims. Very effective also on RFT, UHP e BSR tyres in combination with the bead pressing tool.
Bead Breaker
The bead breaking arm features technical solutions that allow easy operation on wheels up to 15" in width. Technical solutions that, thanks to quick setup, ensure
correct positioning of the bead breaking shoe with respect to the wheel, avoiding damage to the tyre or rim.
Operation is ensured on any type of wheel with the inclination of the bead breaking arm.
This adjustment acts in two different directions: up-down and inside-outside.
Thanks to these adjustments, the bead breaking arm will always be in the best possible position.
Turntable
The turntable of M 724S is designed to offer high performance and compact size.
Mechanism that allows working on wheels from 10'' to 24'' is a patented device that changes the working range from 10'' – 20'' to 14'' – 26'' (external clamping) is easy to operate.
Models
Single Speed
2 Speed
2 Speed with "FS" Jaw Inflation
Specification
Made In Italy
Rim Diameter : 10" to 24"
Bead Breaking Power ( Blade ) – 10 BAR / 15,500N
Bead Breaking Blade Opening – 385mm
Working Pressure : 8-10 BAR
Maximum Wheel Diameter: 1035mm / 40"
Maximum Wheel Width: 3" to 15"
Motor: 2 Speed 230V / Single Phase / 50-60Hz
Maximum Self Centering Torque : 1,200 NM
Weight: 285 Kg
Dimensions
Dimensions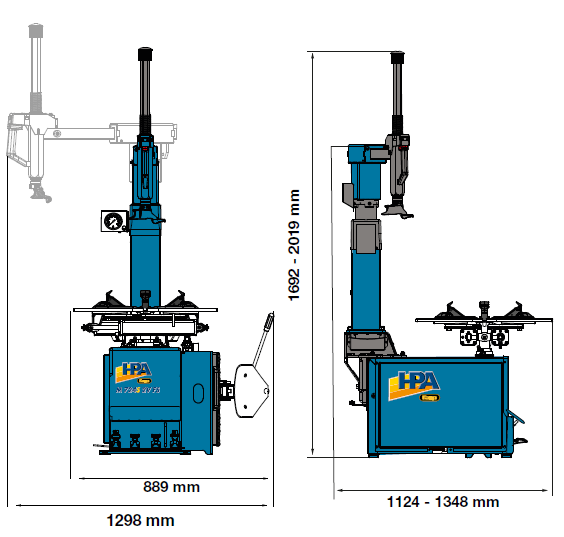 Accessories
Complete with standard accessories:
4 x Jaw Cover
1 x Tyre Lever
1 x Set of Inserts for Fitting Head.
1 x Paste Brush
​1 x Operator's manual